Your Guide to the 2021 IFComp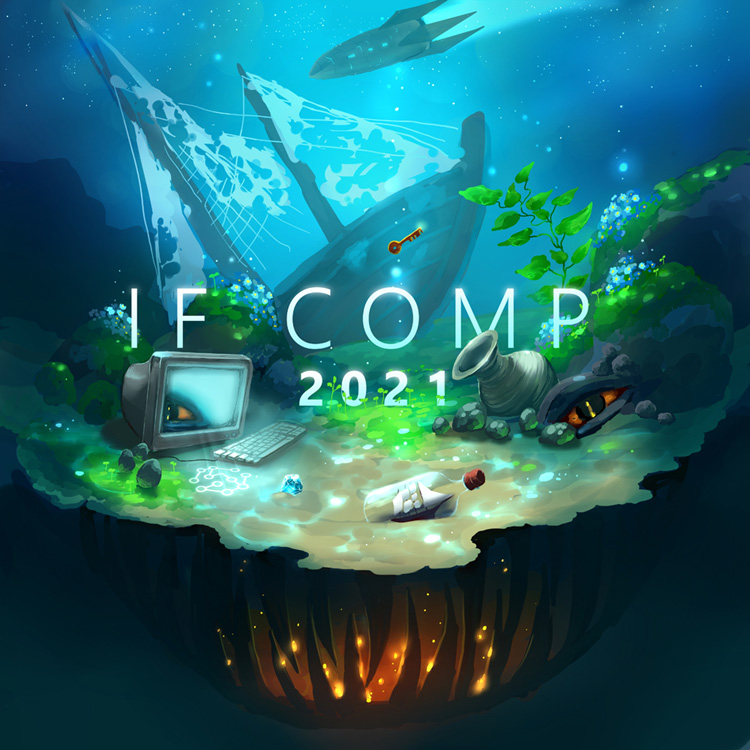 We're glad you're here.
If this is your first time joining us, welcome! If you're already familiar with us, welcome back!
Either way, we hope you have a great time and enjoy playing some of the over seventy games we have for you this year.
Announcements
Here's how this goes…
Check out the games, now live at ifcomp.org
You have until November 15, 2021 at 11:59pm Eastern to vote
You only have to play & rate 5 games to be a judge
New this year…
For authors, we already announced some rule updates, and gave them some some new features when registering their games (such as the ability to designate a co-author).

Judge Rule 4, which previously stated that authors may not judge the entries, will be changed for 2021 so that authors may additionally participate as judges, but cannot rate their own entries. This rule will be evaluated after the 2021 IFComp, with feedback from the community.
Author Rule 3 has been updated to explicitly state that publicly shared source code does not count as a prior release, and Judge Rule 5 has been refined, without changing its intent, to address the scenario of someone who compiles and plays source code prior to October 1st.

For judges, we've added some new ways to filter your ballot by playtime, style, and platform.
If you have feedback…
As ever, we will do a post-competition survey to capture your ideas for improving the competition even more in 2022, so if you have thoughts about improvements, please make a note for when the survey comes out.
Any questions? Email us at ifcomp@ifcomp.org

Thank you in advance for judging!

Jacqueline Ashwell,
October 2021
Reminders & Tips
You don't have to play all the games. Really! You only need to play five games in order to vote. You can certainly play more, but you don't have to play any more than five.
We give you a lot of information to help you choose which games to play. Most games come with additional information such as genre, estimated play time, and platform type, to help you pick which games might be more to your taste or mood.
You can randomize your ballot. The ballot is now randomized by default (rather than alphabetical, though you can sort it alphabetically by title if you'd prefer). You can either randomize it in a stable way (use 'Personal Shuffle' so that the order, though random, is always the same for you), or you can just press the 'Random Shuffle' button over and over. If you're overwhelmed with where to start, just hit 'Random Shuffle' and play the first five games that look good to you. Come back later if you want to play more (but you don't have to – vote for five games, and you're good to go!).
---
A complete summary of all this year's competition entries, including each game's cover art, blurb, and author information, is available on the ifcomp.org website. We encourage you to visit this page to get a full overview of the directory you've downloaded.
You can also read an offline "cover sheet" with an alphabetized index of all this year's games, including their author-supplied cover art and blurbs.
If you're reading this on or before November 15, 2021, then that page will contain all the links and information you need to join the IFComp as a judge – and we hope that you do! As stated above, judging the IFComp simply means playing and rating at least five entries by November 15. Anyone can rate these games, and more judges make a better comp.
After that date, the above link will take you to IFComp 2021's permanent results page. From there, you will still have the opportunity to rate and critique these games on the IFDB, which houses community-reviewed entries for all the IFComp games going all the way back to 1995 (as well as every other IF work of note ever written).
If you're playing these games on or before November 15, 2021 with the intent to rate them as a judge – well, first of all, excellent! We're sincerely glad to have your help.
Please take a moment to read the rules for judges before digging in. You may also wish to read the FAQ and the judging guidelines. We ask especially that you keep in mind that your ratings must reflect only your experiences of the the first two hours of play (at most).
When you're ready to vote, head on back to the online ballot and use the controls found there to enter your ratings before 11:59 PM Eastern time on November 15. You can revisit that page as often as you need to, right up until the deadline. So long as you submit ratings for at least five games, we will count (and very much appreciate) your contribution.
Join the conversation about the competition and its entries in the IF community forums. You can trade hints, share your thoughts about the games, and read other folks' reviews.
Of course, we also encourage you to discuss the games on social media, blogs, or wherever else you'd like. If you have a website where you plan to write reviews, consider adding it to the Planet IF news aggregator so that more of your fellow interactive fiction fans can follow along!
The official Twitter hashtag for IFcomp is, as always, #IFComp.
As the competition progresses, we'll post pertinent links and other news and updates to both the official IFComp twitter account and our own blog.
Finally, if you need to contact the organizer for any reason, feel free to email ifcomp@ifcomp.org, or send a direct message to @IFComp on Twitter.
Jacqueline Ashwell organized the 2021 Annual Interactive Fiction Competition.
Competition staff includes curator Brian Rushton, prize coordinator Thomas Mack, and technical lead Mark Musante.
Additional contributions to the IFComp software this year came from Dan Fabulich, Adam Herzog, Jason McIntosh, Dan Shiovitz, and Dannii Willis.
This year's logo artwork is by Chibionpu.
Special thanks to IFTF's IFComp advisory committee and, of course, to all authors, judges, prize-donors, reviewers, and other participants of the Annual Interactive Fiction Competition.