Lilium L.
Liljat
Lily
Lilium (Liliaceae); [FFP] 2:, 609
Lilium (Liliaceae) L.;
---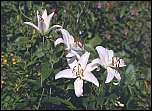 1400x1015 (~169Kb) FINLAND, Ab: Suomusjärvi 669:31, 12.9.1999 (cultivated), Photo © Markku Savela
hybrid. 'Olivia'? det. Tapio Lahtonen
The exact identification of this species is still unknown, but tentatively assumed to belong into this group.
Lilium martagon L.

Varjolilja

Martagon Lily

Krollilja

Lilium martagon; [RK], 491

Lilium pilosiusculum (Freyn) Miscz.

?Lilium martagon L. s. l.

400x640 (~42Kb) A meadow on the eastern slope of the Sopka Lysaya hill of the hill chain Bugotakskie Sopki, Toguchin District, Novosibirsk Province, West Siberia, Russia. 14th June 1997 , Photo © Oleg Kosterin

Lilium pensylvanicum Ker-Gawler

400x612 (~46Kb) A steppe on the hill Malyi Batur on the left bank of the Onon River 7 km upstream of the village Nizhnii Tsasuchei, Onon district, Chita Region, SE Transbaikalia (Dahuria), Siberia, Russia. 11th July 1996, Photo © Oleg Kosterin

Lilium pyrenaicum

Lilium bulbiferum L.

Brandlilja

Orange Lily

Ruskolilja

Lilium bulbiferum; [RK], 491

Lilium pomponium L., 1753

1400x1050 (~360Kb) France: Villefranche-sur-Mer, Alpes-Maritimes, 400 m, 16.5.2004, Photo © Gabriel Alziar

Foodplant for Papaipema cerina

Lilium pardalinum Kellog

Leopard Lily

Lilium lancifolium Thunb.

Lance-leaf Tiger Lily

Tiger Lily

Lilium tigrinum Ker.-Kawl

Foodplant for Nymphalis canace, N. canace
---
2.2.2008 (17)
References:
[Gabriel Alziar]
Muséum d'Histoire Naturelle; 60 boulevard Risso; F-06300 Nice (France)
[Oleg Kosterin] Institue of Cytology & Genetics
Siberian Division of Russian Academy of Sciences; Novosibirsk; e-mail: Oleg Kosterin; http://pisum.bionet.nsc.ru/kosterin/
[maps]
Warning! The maps are automatically generated from the textual information, and the process does not always produce acceptable result; See about maps for more info.
---
Some related literature:
[FPN]; Hitchcock & Cronquist, 1998
Flora of the Pacific Northwest (11th edn) Fl. Pacif. NW
[FFP]; Hutchinson, 1959
The Families of Flowering Plants (2nd ed.) Fam. Fl. Pl. 1: 1-510, 2: 511-792
[RK]; Hämet-Ahti, Suominen, Ulvinen & Uotila, 1998
Retkeilykasvio (Field Flora of Finland) (Edn 4) Retkeylykasvio : 1-656
[GMBOT]; Robinson & Fernald, 1908
A Handbook of the Flowering Plants and Ferns of the Central and Northeastern United States and adjacent Canada Gray's Manual Botany (7th Ed.) : 10-926
---
If you have corrections, comments or information to add into these pages, just send mail to Markku Savela
Keep in mind that the taxonomic information is copied from various sources, and may include many inaccuracies. Expert help is welcome.