Life

Plants

Magnoliophyta

Magnoliophytina

Magnoliopsida

Ranunculaceae
Adonis L.
---
Syysruusuleinikki
Pheasant's-eye
---
Kesäruusuleinikki
Summer Pheasant's-eye
Adonis aestivalis ; [FPN, 126]
---
Spring Adonis
Våradonis
Adonis vernalis, Bilder ur Nordens Flora (in Swedish) [RUNEBERG]

Adonis vernalis ; [Oleg Kosterin]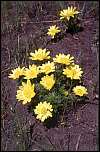 400x611 (~81Kb) A south-exposed right slope of the Inya River valley just upstream of the halt Inya, Novosibirsk, West Siberia, Russia.19th April 1997, Photo © Oleg Kosterin
Foodplant for Polia serratilinea
---
23.2.2002 (3)
References:

A Synonymized Checklist of the Vascular Flora of the United States, Puerto Rico, and the Virgin Islands; A data base interface; BONAP U.S. Checklist - 1998; Provided by TAMU-BWG; Texas A & M Bioinformatics Working Group; Based on; Biota of North America Program
Den Virtuella floran; http://linnaeus.nrm.se/flora/welcome.html; Ett projekt vid Naturhistoriska riksmuseet (Stockholm, Sweden).; Even for non-Swedish speaker, the distribution maps on species are nice (map buttons "Norden" and "Norra halvklotet")
Hutchinson, 1959; The Families of Flowering Plants (2nd ed.)
Hitchcock & Cronquist, 1998; Flora of the Pacific Northwest (11th ed.); ISBN 0-295-95273-3
Institue of Cytology & Genetics; Siberian Division of Russian Academy of Sciences; Novosibirsk; e-mail: Oleg Kosterin; http://pisum.bionet.nsc.ru/kosterin/
Project Runeberg: Nordic literature online; Project Runeberg; Bilder ur Nordens Fauna (Carl Axel Magnus Lindman)
---
If you have corrections, comments or information to add into these pages, just send mail to Markku Savela
Keep in mind that the taxonomic information is copied from various sources, and may include many inaccuracies. Expert help is welcome.