Life

Insecta

Lepidoptera

Ditrysia

Noctuoidea

Arctiidae

Lithosiinae
Ardonea Walker, 1854

Ardonea Walker, 1854; List Spec. Lepid. Insects Colln Br. Mus. 2: 482, TS: Ardonea morio Walker
Ardonea ; Godman & Salvin, 1885, Biol. centr.-amer., Lep. Heterocera 1: 130
Ardonea (Lithosianae) ; Hampson, 1900, Cat. Lep. Phalaenae Br. Mus. 2 : 224

---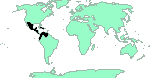 Mexico, Guatemala, Honduras, Panama, Colombia, Venezuela. See [About maps]
Ardonea morio Walker, 1854; List Spec. Lepid. Insects Colln Br. Mus. 2: 482, TL: Venezuela
?Doracis coracina Boisduval, 1870; Considérations Lépid. Guatemala: 96
Ardonea morio ; Godman & Salvin, 1885, Biol. centr.-amer., Lep. Heterocera 1: 130; Hampson, 1900, Cat. Lep. Phalaenae Br. Mus. 2 : 224, f. 145
---
Brazil (Rio de Janeireo). See [About maps]
Carales tenebrosa Walker, [1865]; List Spec. Lepid. Insects Colln Br. Mus. 31: 306, TL: Brazil, Rio de Janeiro
?Ardonea tenebrosa ; Hampson, 1900, Cat. Lep. Phalaenae Br. Mus. 2 : 224, pl. 24, f. 6
---
9.8.2008 (2)
References:

Warning! The maps are automatically generated from the textual information, and the process does not always produce acceptable result; See about maps for more info.

[BCA]

electronic; BIOLOGIA CENTRALI-AMERICANA

[BHL]

The; Biodiversity Heritage Library; and on; Internet Archive; Note: The linking to the content of Internet Archive is somewhat delicate -- notify me when links break!
---
Some related literature:

Boisduval, 1870

Considerations sur des Lépidoptères envoyés du Guatemala à M. de l'Orza Considérations Lépid. Guatemala: 100pp

Godman & Salvin, 1885

Biologia Centrali-Americana; or Contributions to the Knowledge of the Fauna of Mexico and Central America. Zoology. Lepidoptera. Heterocera Biol. centr.-amer., Lep. Heterocera 1: 1-490, 3: pl. 1-101

Hampson, 1900

Catalogue of the Arctiadae (Nolinae, Lithosinae) in the collection of the British Museum Cat. Lep. Phalaenae Br. Mus. 2 : i-xx, 1-589, pl. 18-35

Walker, 1854

List of the Specimens of Lepidopterous Insects in the Collection of the British Museum List Spec. Lepid. Insects Colln Br. Mus. 1: 1-278 (1854), 2: 279-581 (1854), 3: 583-775 (1855), 4: 777-976 (1855), 5: 977-1258 (1855), 6: 1259-1508 (1855), 7: 1509-1808 (1856)

Walker, [1865]
---
If you have corrections, comments or information to add into these pages, just send mail to Markku Savela
Keep in mind that the taxonomic information is copied from various sources, and may include many inaccuracies. Expert help is welcome.