Tribe Nolini
subtribe Nolina (tribe Nolini); Hacker, Schreier & Goater, 2012, Esperiana 17: 18 (list), 26
Nolini (Nolinae); [FE]
Tribe Roeseliidini
subtribe Roeseliidina (tribe Nolini); Hacker, Schreier & Goater, 2012, Esperiana 17: 20 (list); László, 2016, PhD Thesis: 12
---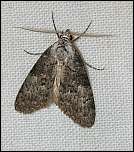 900x1021 (~186Kb) USA: LepSoc mothing trip to Copper Canyon, Cochise Co., Arizona, 4.8.2005, Photo © Valentina Anderson
The exact identification of this species is still unknown, but tentatively assumed to belong into this group.
---
29.5.2020 (1123)
---
Some related literature:
[NE11]; Fibiger, Ronkay, Steiner & Zilli, 2009
Noctudae Europaeae 11: Pantheinae, Dilobinae, Acronictinae, Eustrotiinae, Nolinae, Bagisarinae, Acontiinae, Metoponiinae, Heliothinae and Bryophilinae Noct. Eur. 11
Hacker, Schreier & Goater, 2012
Revision of the tribe Nolini of Africa and the Western Palaearctic Region (Lepidoptera, Noctuoidea, Noctuidae, Nolinae) Esperiana 17 : 7-614
Hampson, 1900
Catalogue of the Arctiadae (Nolinae, Lithosinae) in the collection of the British Museum Cat. Lep. Phalaenae Br. Mus. 2 : i-xx, 1-589, pl. 18-35
[NACL]; Hodges, 1983
Check List of the Lepidoptera of America North of Mexico Check List Lep. Am. N of Mexico
[MOB18]; Holloway, 2003
Familiy Nolidae Moths of Borneo 18
Lafontaine & Fibiger, 2006
Revised higher classification of the Noctuoidea (Lepidoptera) Can. Ent. 138: 610-635
[NACL93]; Lafontaine & Schmidt, 2010
Annotated check list of the Noctuoidea (Insecta, Lepidoptera) of North America north of Mexico ZooKeys 40 : 1-239
László, 2016
A taxonomic and zoogeographical survey of the Meganola Dyar, 1898 generic complex (Lepidoptera, Nolidae, Nolinae) based on the Palaearctic and Oriental species PhD Thesis : 1-125, pl. 1-6
[RFEL]; Leley, 2016
Annotated catalogue of the insects of Russian Far East. Volume II. Lepidoptera Cat. ins. Russian Far East. 2 : 1-812
[AUCL]; Nielsen & Rangsi, 1996
Checklist of the Lepidoptera of Australia Monogr. Aust. Lepid. 4: 1-529
Zahiri, Lafontaine, Holloway, Kitching, Schmidt, Kaila & Wahlberg, 2013
Major lineages of Nolidae (Lepidoptera, Noctuoidea) elucidated by molecular phylogenetics Cladistics 29 : 337-359
---
If you have corrections, comments or information to add into these pages, just send mail to Markku Savela
Keep in mind that the taxonomic information is copied from various sources, and may include many inaccuracies. Expert help is welcome.