Oiketicinae Herrich-Schäffer, 1855
Tribe Phalacropterigini
Phalacropterigini (Oiketicinae); Sauter & Hättenschwiler, 1999, Nota Lepid. 22 (4): 271 (key)
Phalacropterygini[sic, Phalacropterigini] (Oiketicinae); [FE]
---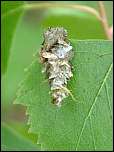 700x934 (~90Kb) cocoon Sweden, Ekebo, Julita, 27.7.2005, Photo © Leif Wahlberg
The exact identification of this species is still unknown, but tentatively assumed to belong into this group.
---
13.11.2022 (307)
---
Some related literature:
[NACL]; Hodges, 1983
Check List of the Lepidoptera of America North of Mexico Check List Lep. Am. N of Mexico
[RFEL]; Leley, 2016
Annotated catalogue of the insects of Russian Far East. Volume II. Lepidoptera Cat. ins. Russian Far East. 2 : 1-812
Rhainds, Davis & Price, 2008
Bionomics of Bagworms (Lepidoptera: Psychidae) Ann. Review Ent. 54 : 209-226 (?2009)
Roh, Banasiak & Byun, 2016
A new and an unrecorded species of the family Psychidae (Lepidoptera) from Korea, with an annotated catalogue J. Nat. Hist. 50 (11-12) : 667-680
Sauter & Hättenschwiler, 1999
Zum System der palaearktischen Psychiden (Lep. Psychidae). 2. Teil: Bestimmungsschlussel für die Gattungen Nota Lepid. 22 (4) : 262-295
---
If you have corrections, comments or information to add into these pages, just send mail to Markku Savela
Keep in mind that the taxonomic information is copied from various sources, and may include many inaccuracies. Expert help is welcome.