Coleophoridae Bruand, 1850
Pussikoit
Coleophoridae Bruand, 1850; Mém. Soc. Doubs 3 (3, livr. 5-6): 54; TG: Coleophora Hübner
Augasmidae Heinemann, [1876]; Schmett. Deutschl. Schweitz 2 (2): 526; TG: Augasma Herrich-Schäffer
Haploptilidae Barnes & McDunnough, 1917; Check List Lep. Boreal America: 184; TG: Haploptilia Hübner
Eupistidae Fletcher, 1929; Mem. Dep. Agric. India, Ent. Ser. 11: iii, v; TG: Eupista Hübner
Metriotinae Capuse, 1971; Res. morph. syst. Fam. Coleophoridae: 56; TG: Metriotes Herrich-Schäffer
Ischnophanini Capuse, 1971; Res. morph. syst. Fam. Coleophoridae: 58; TG: Ischnophanes Meyrick
Aplotinae Capuse, 1971; Res. morph. syst. Fam. Coleophoridae: 56
Casasini Capuse, 1971; Res. morph. syst. Fam. Coleophoridae: 59; TG: Casas Wallengren
Tolleophorini Capuse, 1971; Res. morph. syst. Fam. Coleophoridae: 59; TG: Tolleophora Capuse
Heringiellini Capuse, 1971; Res. morph. syst. Fam. Coleophoridae: 60; TG: Heringiella Börner
Razowskiini Capuse, 1971; Res. morph. syst. Fam. Coleophoridae: 61; TG: Razowskia Capuse
Falkovitshiinae Capuse, 1972; Trav. Inst. Spéol. "Emile Racovitza", 11: 269; TG: Falkovitshia Capuse
Falkovitshiini Capuse, 1972; Trav. Inst. Spéol. "Emile Racovitza", 11: 269; TG: Falkovitshia Capuse
Casignetini Falkovitsh, 1972; Ént. Obozr. 51: 383; TG: Casigneta Wallengren
Agapalsina Falkovitsh, 1972; Ént. Obozr. 51: 369; TG: Agapalsa Falkovitsh
Carpochenini Capuse, 1973
Goniodomina Capuse, 1973; Taxon. morphol. syst. Famille Coleophoridae: 8; TG: Goniodoma Zeller
Casignetellini Falkovitsh, 1978; Ent. Obozr. 57: 386; TG: Casignetella Strand
Coleophoridae; Capuse, 1975
Coleophoridae (Coleophoroidea); Lvovsky, 2012, Ent. Obozr. 90 (4) Ent. Rev. 92 (2): 196
Coleophoridae (Gelechioidea); [NACL], 15; [AUCL]; [Richard Brown]; van Nieukerken et al., 2011, Zootaxa 3148: 215; Heikkilä, Mutanen, Kekkonen & Kaila, 2013, Cladistics (2014): 23; [RFEL]
Subfamily Coleophorinae
Haploptilini
Agapalsini
Systrophoecini
Razowskiini
Casignetellini
Carpochenini
---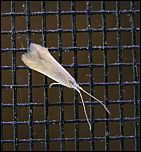 603x653 (~49Kb) CANADA: Nova Scotia, Waverley, 15.7.2004, Photo © Peter Payzant
The exact identification of this species is still unknown, but tentatively assumed to belong into this group.
---
10.5.2023 (1270)
---
Some related literature:
Barnes & McDunnough, 1917
Check List of the Lepidoptera of Boreal America Check List Lep. Boreal America : 1-392
Bruand, 1850
Catalogue du Doubs. (Suite). Tinéides Mém. Soc. Doubs 3 (3, livr. 5-6) : 23-58, : 59-68
Capuse, 1971
Researches morphologiques et systématiques sur la famille des Coleophoridae (Lepidoptera) Res. morph. syst. Fam. Coleophoridae : 1-66
Capuse, 1972
Contributions à l'étude de la famille des _Coleophoridae (VII). Falkovitshia marcella n. g., n. sp. Trav. Inst. Spéol. "Emile Racovitza", 11 : 265-270
Falkovitsh, 1972
New Genera of palaearctic casebearers (Lepidoptera, Coleophoridae) [in Russian] Ént. Obozr. 51 : 369-386
Fletcher, 1929
A List of the Generic Names used for Microlepidoptera Mem. Dep. Agric. India, Ent. Ser. 11 : i-ix,1-246
Heikkilä, Mutanen, Kekkonen & Kaila, 2013
Morphology reinforces proposed molecular phylogenetic affinities: a revised classification for Gelechioidea (Lepidoptera) Cladistics (2014) : 1-27
Heinemann in Heinemann & Wocke, [1876]
Die Schmetterlinge Deutschlands und der Schweiz Schmett. Deutschl. Schweitz 2 (1): 1-388 (1870), (2): 389-825, 1-102 ([1876])
[NACL]; Hodges, 1983
Check List of the Lepidoptera of America North of Mexico Check List Lep. Am. N of Mexico
[RFEL]; Leley, 2016
Annotated catalogue of the insects of Russian Far East. Volume II. Lepidoptera Cat. ins. Russian Far East. 2 : 1-812
Lvovsky, 2012
Comments on the classification and phylogeny of broad-winged moths (Lepidoptera, Oecophoridae sensu lato) Ent. Obozr. 90 (4) : 892-913, Ent. Rev. 92 (2): 188-205
[AUCL]; Nielsen & Rangsi, 1996
Checklist of the Lepidoptera of Australia Monogr. Aust. Lepid. 4: 1-529
van Nieukerken et al., 2011
in Zhang (Ed.), Animal biodiversity: An outline of higher-level classification and survey of taxonomic richness. Order Lepidoptera Linnaeus, 1758 Zootaxa 3148 : 212-221
Sattler & Tremewan, 1974
A catalogue of the family-group and genus-group names of the Coleophoridae (Lepidoptera) Bull. Br. Mus. nat. Hist. (Ent.) 30 (3) : 183-214
Vives, 1988
Catalogo mundial sistematico y de distibucion de la familia Coleophoridae Hübner, [1825] (Insecta: Lepidoptera) Bol. Sanidad Vegetal 12
---
If you have corrections, comments or information to add into these pages, just send mail to Markku Savela
Keep in mind that the taxonomic information is copied from various sources, and may include many inaccuracies. Expert help is welcome.